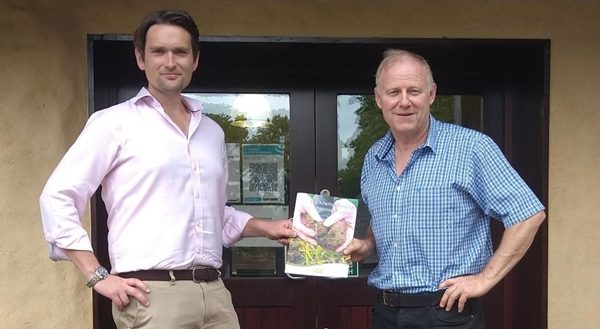 Phil Jarvis (right) hands across the Allerton Project's 'Training Manual' to Joe Stanley.
With the future direction of landscape management, it has never been more important to balance an enhanced environment with sustainable food production and to be able to communicate this to a wider audience.
Project Director, Dr Alastair Leake commented, "What a great time to join the Allerton Project. Joe will lead the training and partnership team and work closely with the farming and research departments to coordinate the project's external messaging."
"We are delighted to welcome Joe; he brings a combination of practical farming experience, a proven ability to communicate on a broad range of subjects and has a cross section of industry contacts."
"Joe succeeds Phil Jarvis, who moves to an exciting new challenge in the industry. We would like to thank Phil for his contribution as one of the cornerstones of the Allerton Project for many years".
Joe Stanley said, "I am delighted to succeed Phil and look forward to continuing the ground-breaking work that the project has delivered over the last 25 years on many aspects of wildlife friendly farming. Our food production systems must increasingly combine biodiversity and carbon whilst striving to deliver an economically sustainable model for UK growers. I look forward to working with the Allerton team to address this challenge".
The GWCT Allerton Project is a combination of commercial farming, research, demonstration and community engagement, based on a 320-hectare estate in Leicestershire, United Kingdom.